China Center for Energy and Transportation
Institute of Transportation Studies
University of California, Davis
1605 Tilia Street, Suite 100
Davis, CA 95616
Yunshi Wang, Director
Email: yunwang@ucdavis.edu
Phone: (916) 612-8719
For media inquiries contact:
Sam Chiu
Email: itsmedia@ucdavis.edu
Office: (530) 752-2039
Our offices are located on the western side of the UC Davis campus, in the new zero-net-energy community of UC Davis West Village. Directions are below the map.
Driving Map
[insert google map]
Biking Map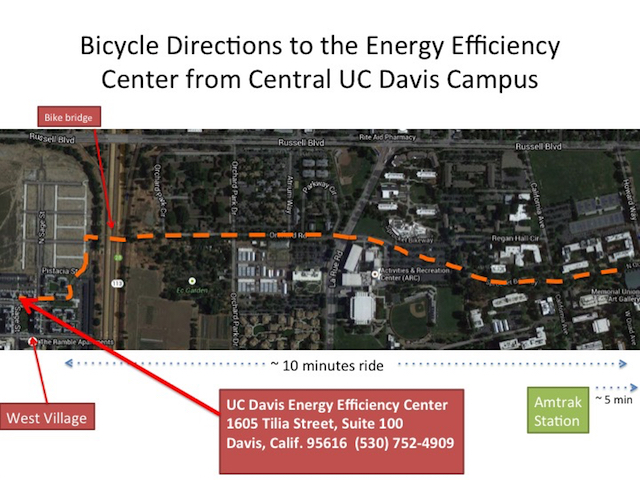 Directions to our offices
Transportation and Energy Research Programs
1605 Tilia Street
Davis, Calif. 95616
(530) 752-6548
 
From I-80 East or West
Take Exit 70 for Highway 113 North toward Woodland.
Take Exit 27 for Hutchison Drive.
Turn left (west) onto Hutchison Drive.
At the first traffic circle, turn right (north), following the sign pointing to the right for Hutchison Drive.
At the second traffic circle, go straight, and continue north toward the buildings and construction activity. You will be on Sage Street.
At the T intersection, turn right onto Tilia Street.
The Main Office Lobby is located on the 1st Floor, 1605 Tilia Street, at the northeast corner of Tilia Street and North Sage Street (across from the grassy area and on your left).
If you are visiting for less than two hours, please park in a marked two-hour street spot. If your visit will be longer than two hours, please park in a "West Village Staff" / "WV Staff Permit Parking"  spot and then come in to our office for a temporary parking permit to put on your dashboard.
West Village has plentiful bike parking. Also, Unitrans (the campus and City of Davis bus system) serves West Village via Route V http://unitrans.ucdavis.edu/.
Download a flyer: WV Parking Brochure 20131014
Lodging
A list of nearby lodging is here: http://www.yolocvb.net/hotels-and-inns-davis.html/ . When making your reservation, ask about special University of California rates.